LINKBUS and RESALP team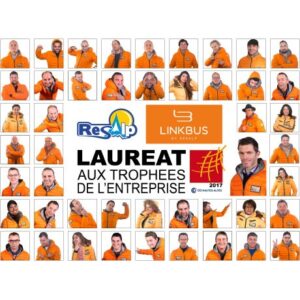 About 30 people work all year long and this number reaches around 45 people for the high period.
A special and efficient team is dedicated to inform our customers!
Our drivers are trained to an eco responsible conduct and make your journey the most comfortable and secure.
A BETTER REPLY TO YOUR NEEDS
We are located in the heart of Briançon Serre Chevalier, a few steps from the train station and close to the fortified old city "Vauban".
The closest ski resorts:
Serre Chevalier Valley: 250km of slopes
Montgenèvre: Italian border, the famous "Milky Way".
Clarée Valley: Nordic skiing, amazing experience on snow with dogsledding...
National Parc des Ecrins: Peaks and mythic glacier (La Meije, Dôme des Ecrins, Le Pelvoux, Le Gaspard...)
Natural Parc du Queyras: Highest Valley of Hautes-Alpes with authentic and traditonal atmosphere.
When travelling by train, you can stop at Oulx train station (Italy), our coaches are on service all along the year between there and Serre Chevalier.
For more information: https://www.autocars-resalp.com/